Caught this show in NoLA at Siberia on the 17th of November. I recommend everyone to check em' out. Natives to the city, they bring out an overwhelmingly enthusiastic crowd.
Their sound is hard to explain if you don't know what New Orleans metal sounds like, because that pretty much sums it up. You'll have to listen for yourself and find out.

                                      Currently on tour in Australia:
                            Nov. 21, 2012 - The Zoo - Brisbane, Australia
                            Nov. 22, 2012 - Manning Bar - Sydney, Australia
                            Nov. 23, 2012 - ANU Bar - Canberra, Australia
                            Nov. 24, 2012 - Billboard - Melbourne, Australia
                            Nov. 25, 2012 - Cherryfest - Melbourne, Australia

Official website: http://eyehategod.ee/
Facebook: http://www.facebook.com/OfficialEyeHateGod
Photo Credit: David Young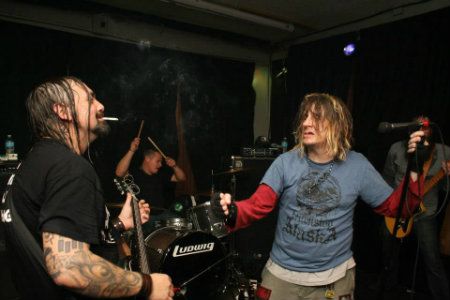 Other awesomeness from New Orleans: Flesh Parade (Grind), The Pallbearers (Punk) and Solid Giant (Doom)

Spruce up an old pair of jeans.
DIY Embellished Denim
"Wonderland November" by Stefania Fersini
Torino, Italy
A creative man is motivated by the desire to achieve, not by the desire to beat others.